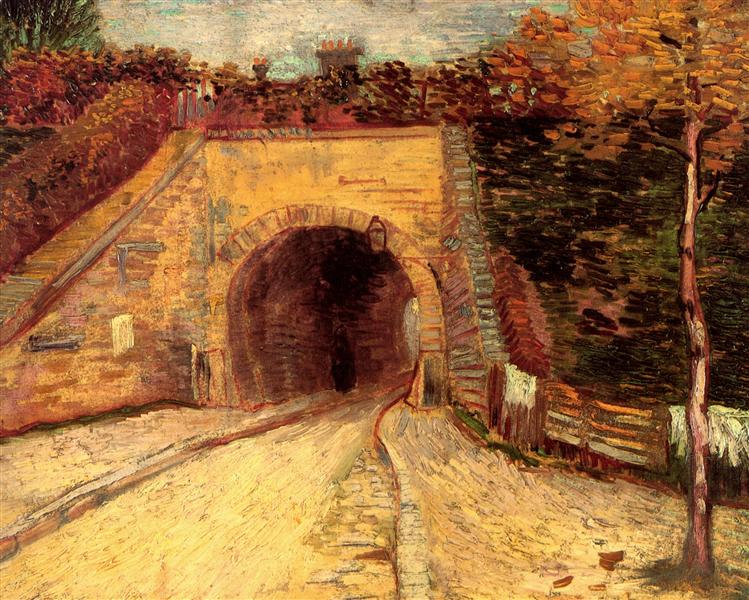 Fermata
V. Van Gogh, Le viaduct

The road is sad, saturated with poison,
And pricking with flat notes on my bare feet.
Impasto on canvas. The strokes are ugly,
Acidic and toxic. The rigorous sunshine

Resists to decline. While attacking the road,
I breathe in the summer's corroding air,
The surface is molten, it leads to the tunnel
Which easily pierces the space on the easel.

Pinocchio's hearth, an oasis, hosanna,
The tunnel is tamed, safely packed in the canvas,
But just as its entrance appears unreal,
The more so its exit is painted helpless.

Translated from Russian by V. Emelin and author

Фермата
(В. Ван-Гог. "Виадук")

Дорога печальна, пропитана ядом.
Бемолями колет босые ступни
Проселок-импасто. Мазки безобразны,
Кислотны, токсичны. Не сходит на убыль

Жестокое солнце. Шагаю дорогой,
Дыша разъедающим воздухом лета,
По маслу поверхности, по направленью
К туннелю, пронзившему плоскость мольберта.

Очаг Буратино, оазиc, осанна,
Туннель укрощен, в полотно упакован
Но если покажется вход нереален,
То выход тем более чуть прорисован.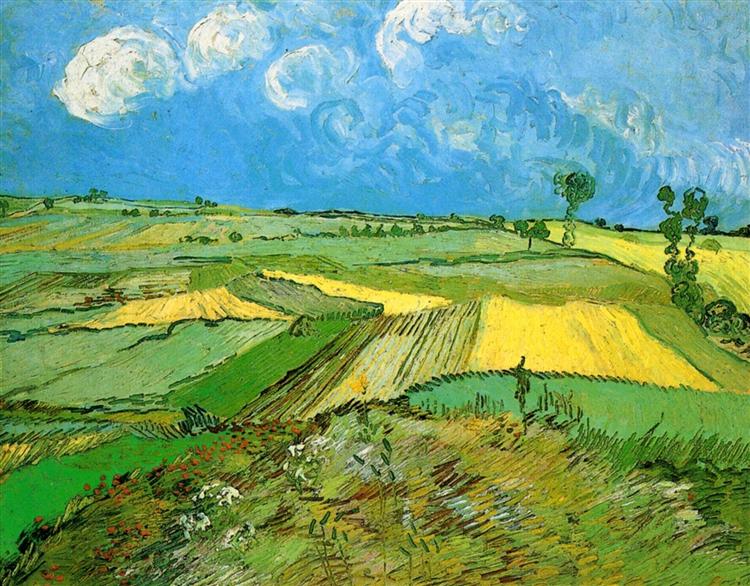 In Front of the Van Gogh's "Wheat-field at Auvers Under Clouded Sky"

At the museum,
Right outside the field of wheat,
Wary of all the strokes and seams.
It's so simple you can wear it.

Made in 1890 exclusively for 2012,
Totally wearable art
Can be worn as a trendy bag,
On your neck or your torso,
As a pareo or a scarf.
You can also
Wear it as a scar.
With straps or strapless,
Or as a chip on one's shoulder.
Better yet, used as the kitschy colored
Kitchen curtain
With its seething,
Streaming down
Patchwork of satin,
Wheat and emerald
Colored, sporting
Unfadeable duo-
Lazuli and lavender,
Topped off by the white smudges.
Spread it on your skin,
Feel the grassy angry daggers
Pierce your abdomen-
C-section in reverse.
Of course
There's no way
These fetuses, babies
Can break in to be re-carried,
Re-nurtured, be reborn.
The painter was mad.
All the seams are torn.
I wouldn't wear it like that.

I wish this field could be
Sewn into a kimono
Where brush strokes stream down
The stalks
Under Vincent's clouded sky.
Versatile
Surimono-
That's what I want to wear and write.

Philadelphia, Spring 2012


Ван Гог. "Пшеничные поля в Овере под облачным небом"

В зале музейном,
Пшеничного поля напротив,
Без швов и стежков, такое простое,
Что можно на плечи набросить,
Дизайна 1890-го для 2012-го
Носибельное искусство
К фирменной сумочке с надписью,
Внакидку или на бедрах,
Как парео или шарф,
Можно носить как шрам,
Можно носить как шарм,
С бретельками или без,
Можно – сердцем на рукаве,
А лучше – занавеской кухОнной,
В стиле "кич бездуховный",
Стремящейся вниз, отпАдной,
Сатиново-водопадной,
Изумрудно-пшеничной,
Цветной гардиной оконной,
Невыцветающе-модной,
Ляпис-лазурной лавандой
С белыми кляксами пышными.
Почувствуй ткань своей кожей,
Как травяные кинжалы
Взрезают тебе живот –
Кесарево наоборот.
Конечно,
Зародышам невозможно
Внедриться, впитаться,
Обратно родиться.
Мастер безумного кроя –
Так – не годится,
Я не надену такое.

Я бы хотела
Сшить из него кимоно,
Где по стеблям стекают строчки
Под печальные
облачные небеса.
Универсальное
Суримоно –
Вот что я буду носить и писать.

Translated from English by V. Emelin