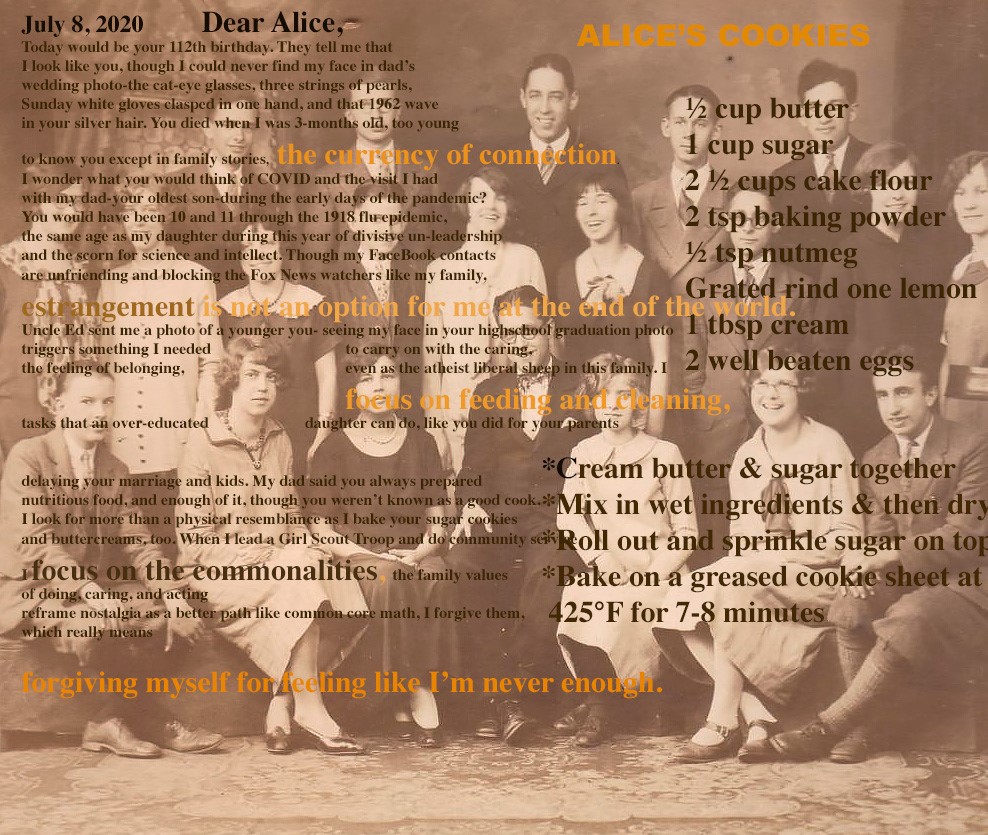 July 8, 2020
Dear Alice,
Today would be your 112th birthday. They tell me that
I look like you, though I could never find my face in dad's 
wedding photo-the cat-eye glasses, three strings of pearls, 
Sunday white gloves clasped in one hand, and that 1962 wave 
in your silver hair. You died when I was 3-months old, too young 
to know you except in family stories, the currency of connection. 
I wonder what you would think of COVID and the visit I had 
with my dad-your oldest son-during the early days of the pandemic? 
You would have been 10 and 11 through the 1918 flu epidemic, 
the same age as my daughter during this year of divisive un-leadership 
and the scorn for science and intellect. Though my Facebook contacts 
are unfriending and blocking the Fox News watchers like my family, 
estrangement is not an option for me at the end of the world. 
Uncle Ed sent me a photo of a younger you—seeing my face in your 
high school graduation photo triggers something I needed
to carry on with the caring, the feeling of belonging, even as 
the atheist liberal sheep in this family. I focus on feeding and cleaning, 
tasks that an over-educated daughter can do, like you did for your parents 
delaying your marriage and kids. My dad said you always prepared 
nutritious food, and enough of it, though you weren't known as a good cook. 
I look for more than a physical resemblance as I bake your sugar cookies 
and buttercreams, too. When I lead a Girl Scout Troop and do community service
I focus on the commonalities, the family values of doing, caring, and acting,
reframe nostalgia as a better path like common core math, I forgive them, 
which really means forgiving myself for feeling like I'm never enough.
ALICE'S COOKIES
1/2 cup butter
1 cup sugar
2 1/2 cups cake flour
2 tsp baking powder
1/2 tsp nutmeg
Grated rind one lemon
1 tbsp cream
2 well beaten eggs
*Cream butter & sugar together
*Mix in wet ingredients & then dry
*Roll out and sprinkle sugar on top
*Bake on a greased cookie sheet at 425 degrees F for 7-8 minutes