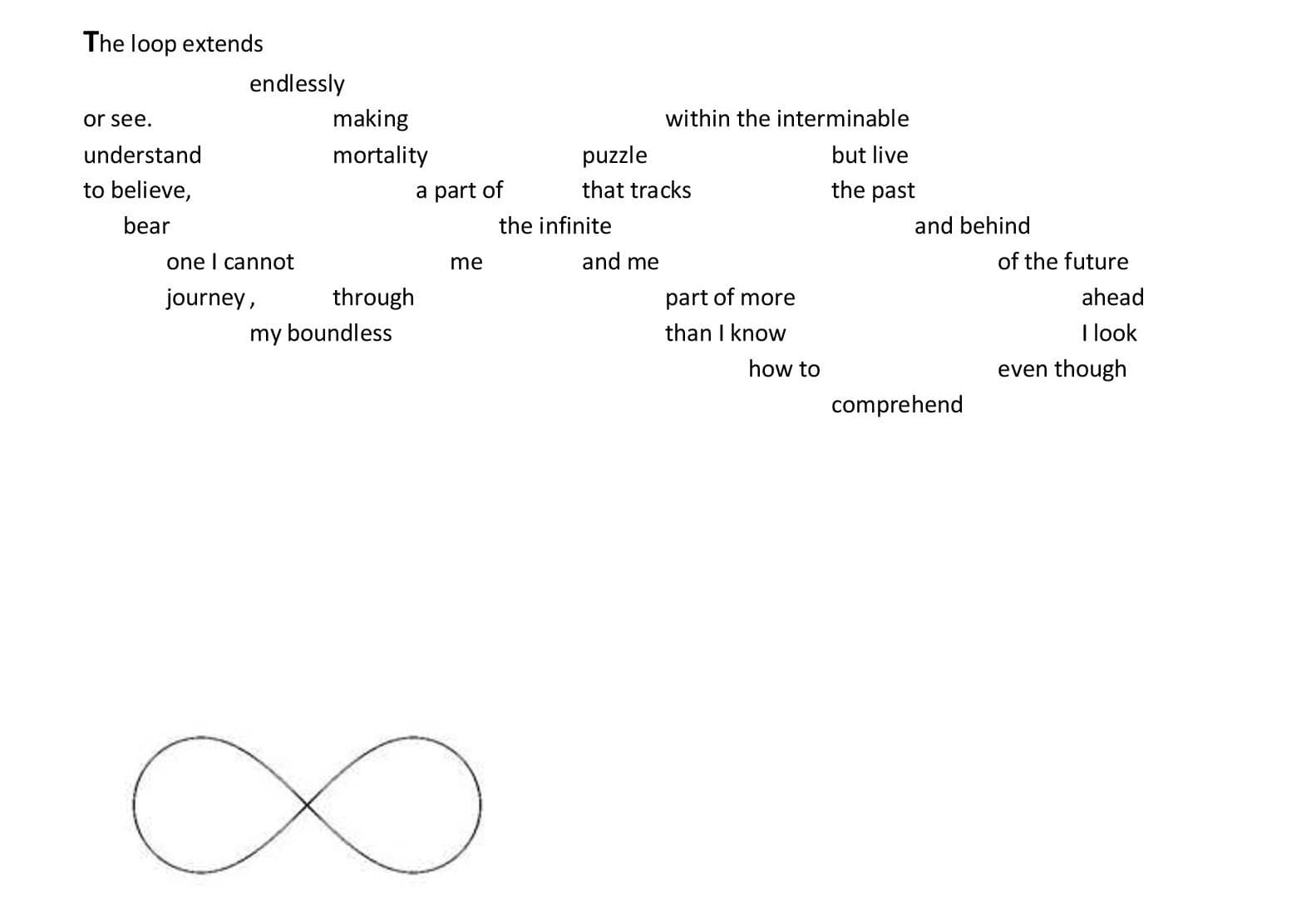 Philip Wexler
3 Questions for Philip
What was your process for creating this work?
The infinity symbol is universally accepted, and a given as far as using it in the construction of my poem, i.e. I planned to work with it as is, without alterations.  Now I "simply" had to produce the words that would express what the concept meant to me and find a way to integrate them into the shape in a closed, continuous, forever loop, without saying too little or too much, and that could extend indefinitely.  I also had to break up the words visually so that, while I'd be unable to reproduce the exact smooth shape, I'd come close enough so that it would be recognizable.
What is the significance of the form you chose for the work?
Whereas most of my poems are written in verse, plus a fair number in the prose poem format, I have played around with concrete poetry over the years and am, in fact, slowly putting together a book length collection. Concrete poetry, I feel, can enhance the words by adding a visual dimension. Usually, I see or think of an image of something in the real world, which becomes a prompt for a line that invariably turns out to be the beginning of the poem (though it can start anywhere within the shape) and see where it leads me. Continual adjustments are necessary to make things fit decently.
What is the significance of this work to you?
This particular poem represents, for me, the age-old journey of life, endlessly connecting the past, present, and future, extending to pre- and post-life, and seeking to make heads or tails of its meaning and significance.
Philip Wexler lives in Bethesda, Maryland. He has had over 180 poems published in magazines.  His collections, The Sad Parade (prose poems), and The Burning Moustache were published by Adelaide Books. Two more books are scheduled for 2022 - The Lesser Light by Finishing Line Press and I Would be the Purple by Kelsay Books. He also organizes Words out Loud, a monthly spoken word series, at Glen Echo Park in Maryland, lately presented remotely via Zoom.
< Back (27-year-old Woman Arrested for Infanticide; Tokyo, Japan (A broken and dismembered Tanka from an overheard news report, ca. 2003))