Excerpt from "The Easter Meal Reveal"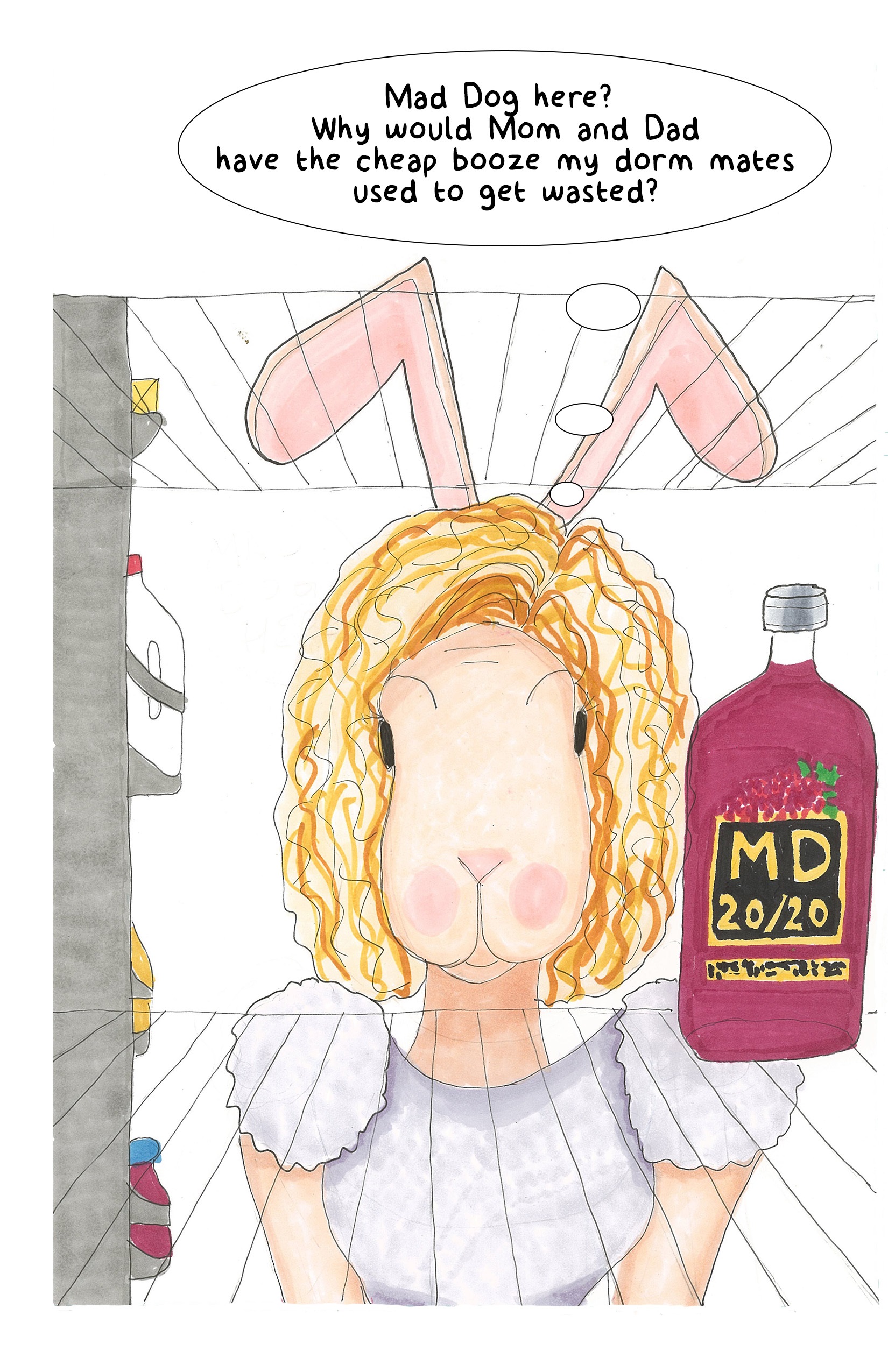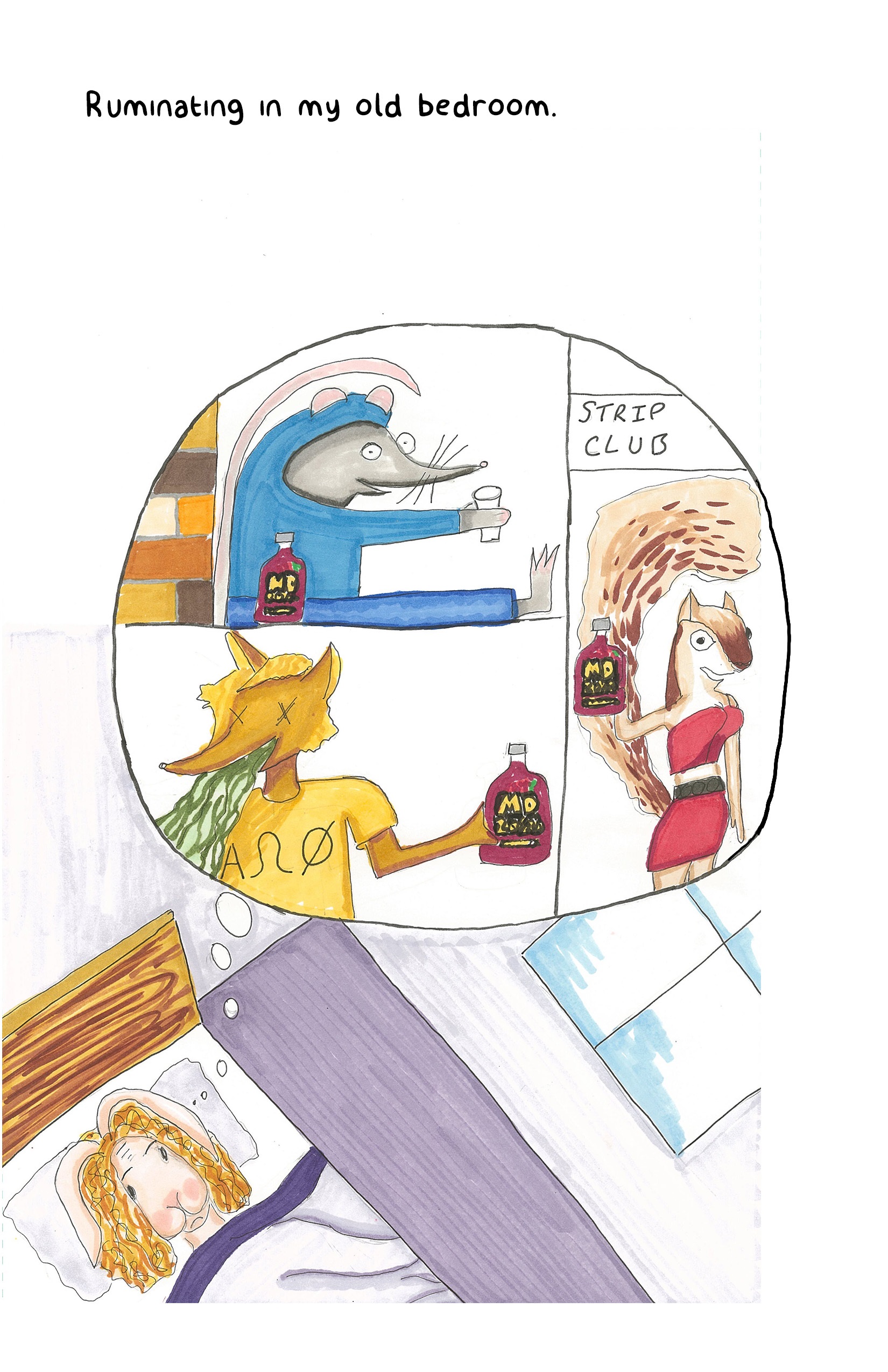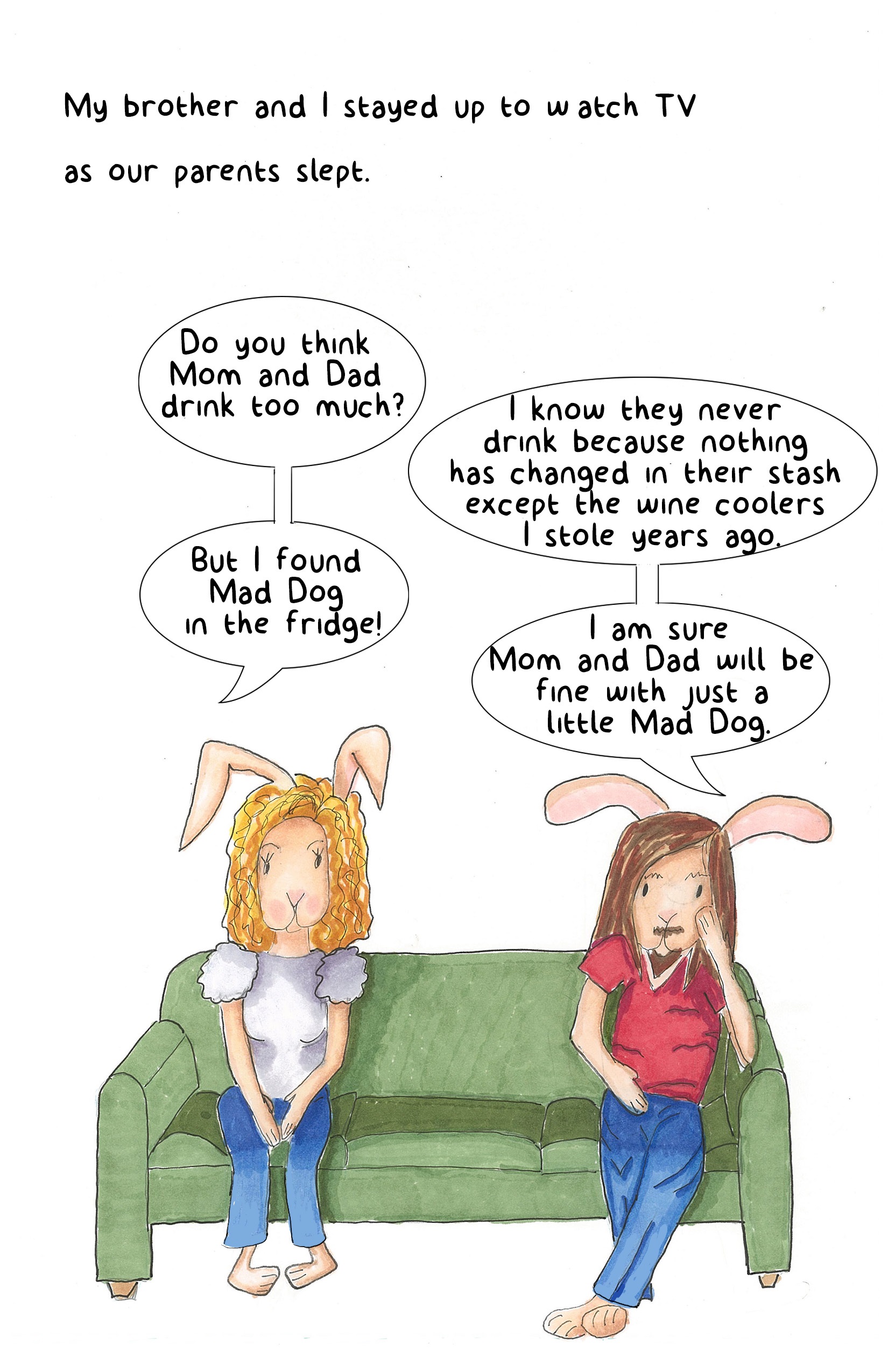 Mary Ledvina
What is the significance of this work to you?
This excerpt is based on an event in my young adult years which exemplifies the overblown nature of my anxiety and how I dealt with it at the time. The characters are bunnies because my Dad used to call my Mom "Bunny"; the story takes place on Easter and I was influenced by Art Spiegelman's Maus. 
Doing this comic gave me the drawing experience and confidence I needed to focus on a much larger book: a graphic memoir about my mental health that I am working on now.
What is the significance of the form you chose for this work?
This was my first foray into the graphic narrative form after over 10 years of artistic explorations and a lifetime of loving the written word. That these forms are combined in this work is very important to me because I have found so much more can be told when images and writing are interwoven. I wanted to have the images and the writing serve different functions in this piece. I used the images to convey as much as possible: the emotions, the character's mannerisms and to set the scene. I tried to keep the words to a minimum so they concisely conveyed what the pictures couldn't say.
What was your process for creating this work?
In a four week Introduction to Comics class with Jerzy Drood, I was guided to come up with a comic idea, write it out, and turn it into an 8 page mock up, first using stick figures then progressing to scribbly characters. After the class, the idea continued burning within me. I studied Understanding Comics and Making Comics by Scott McCloud. I next took a class called Illustrated Storytelling with Cayla Somano, in which I further developed my sketches and decided to do the coloring with Copic Markers, alcohol markers that allow blending. Learning to use Copics effectively was a course in itself: it took many Youtube videos and many hours of experimenting to learn how to use this new tool. I further developed my comic in Kay Gould Caskey's studio classes in which she provided invaluable guidance and many helpful pointers. After my final color mockup was complete, I had the epiphany to make the characters into bunnies. I concentrated on studying rabbits by collecting images from the internet to create a Pinterest board, and observing rabbits in our yard as I experimented with many styles of sketches. The final version of the comic was inked and colored on 11 x 17 Bristol board, scanned into a Macbook pro, where I added the text and did fine adjustments in Photoshop. I sent this last draft for feedback to 20 friends and artists, which helped me make numerous improvements to text, images and backgrounds. I owe a deep debt of gratitude to Kay Gould-Caskey who worked with me closely until I had completed my final version.
Mary Ledvina (she/her) is a healer, writer, artist, and teacher. She has been published in Art Journaling Magazine, Paragraph and Seeding the Snow. For two years, she was the editor in chief of Cellar Roots, Eastern Michigan University's literary and arts magazine. She lives in a solar-powered house in Whitmore Lake, MI. She creates something almost every day even if it is just making a new recipe, writing a poem or slathering some paint in a journal.
Next (The Mondrian Collection by Yves Saint Laurent) >
< Back (Window Pane)