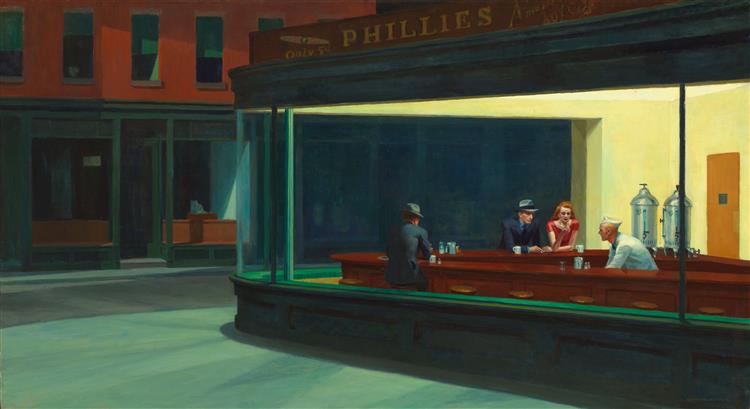 Charley pours their coffee,
tells them they look good.
But they know they are just a couple of stiffs,
mannequins with the hangers still in,
too-much-make-up caked on razor-sharp faces.
They lean on the right angles of their ennui.

He never did like that suit.
Too blue for a funeral,
shirt the color of families laughing under an azure sky,
all wrong for sorrow.
His hand, like yesterday's haddock,
scissors an unlit Chesterfield,
smoke of soldiers
and those who wish they were.

She laments that she has no purse
from which to pull a silver cigarette case,
as she fondles their only book of matches.
Her hair was never this color of carrots
or harlots casing Times Square.

If only they could burn their tongues
on the steaming coffee in mugs
white like calla lilies.
If only they had a gun, they could
rob this man with just a back
and nursing a glass of guilt.
Just for a laugh.
Charley would never tell.

If only they had a car,
not wrecked when he looked away to adore her hair,
moonlight shading it the color of persimmons
as she threw her head back,
laughing her brash red conceit.


First published in Off the Coast, International Poetry Journal Winter 2011.