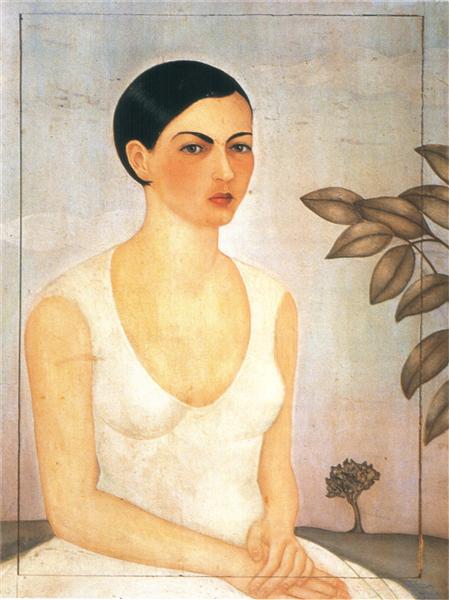 7 june 1908: cristina hermanita mi alma mi corazón
(portrait of cristina, my sister 1928)

the mexica family romance turns . . . on the contest between siblings . . . the outraged elder sibling [. . . supplanted, inconsolable, insatiable . . .], endlessly destroyed by her infant rival
inga clendinnen. aztecs: an interpretation. cambridge university press: 1997.



for sweet talk and useless coin
you will slay me


tu
la mujer
with the twice big belly
 
y yo
woman shorn
in pressed vested suited trousers
 
chingada butch to your femme chingón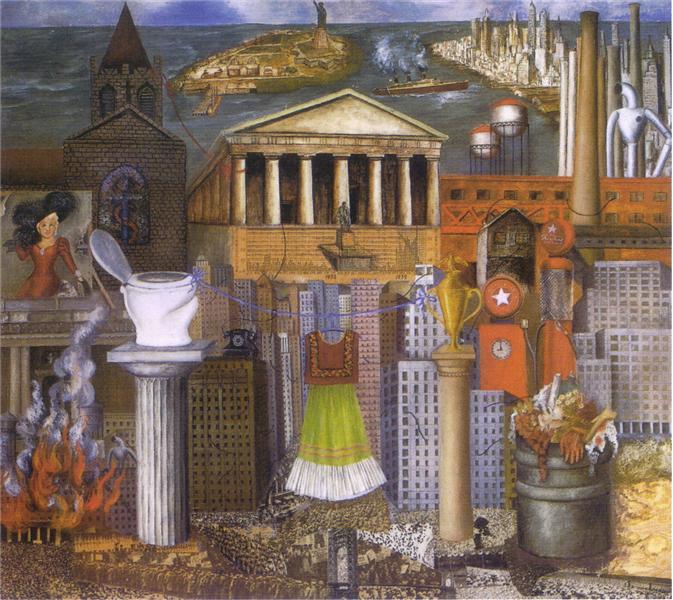 lost en gringolandia
(my dress hangs there 1933)

i:

forbid
that i should ever have
no other choice than
to wander in gringolandia
                                     forever

                in this hush of the lifeless
                     this bleak ashen light
 
                in this seductive land of greed
                     this cold shameless place
 
                in this land of the zealous chosen
                     this land of purchased flesh
 
                in the midst of this deadening starvation
                                    tuxedoed pirates
                                    their gilded garbage


ii:
 
wrenched
from the sacred breast of mayahuel
 
i am
mad with thirst
 
only
"my dress hangs there"
 
iii:
 
exotic little flower, they all say
 
admiring me
a darling diminutive boutonniere

"little frida"
pinned to a carelessly groomed lapel
 
iv:
 
they steal my clothes
they embalm my hands
 
estoy
en Vogue
 
v:

en el profane drought stricken norte
one must learn to drink her own tears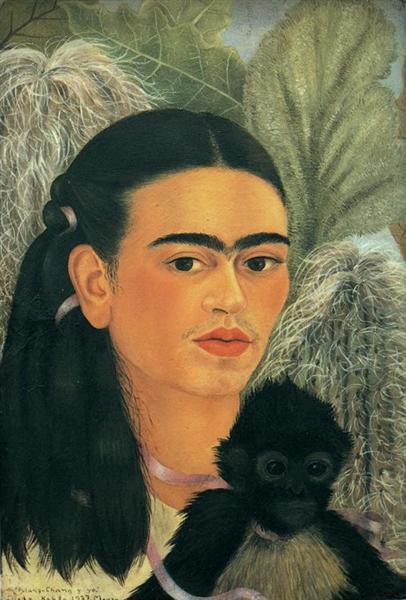 mary schapiro sklar*
(fulang-chang y yo/fulang-chang and i 1937)

maría
es clara
 
i think of you
thinking of me
 
and stand
within the good green light
 
its ribs
its veins
its bristling plumage
 
women with mustaches will look at this and know


*when frida gave fulang-chang and i to her close friend mary sklar, she also gave her a mirror in a similar folkloric frame. frida's idea was that the mirror and the painting would hang side by side so that mary sklar could always see herself next to frida.
 
Hayden Herrera.  Frida Kahlo: The Paintings. San Francisco: Harper Collins, 1991.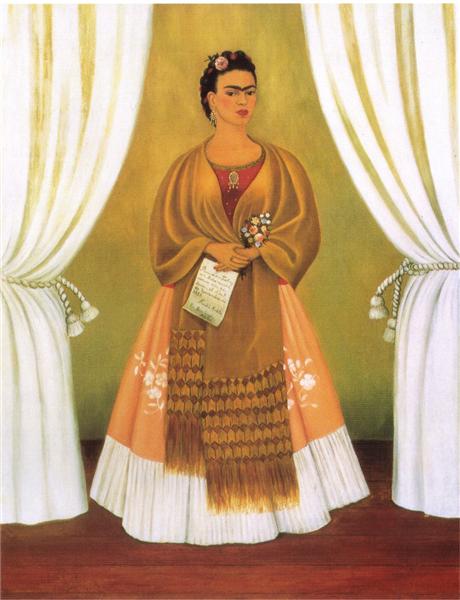 august 1940: the arrest
(self-portrait dedicated to leon trotsky | between the curtains 1937)

the old man had long been
an object for active target practice

ice ax bit into bone
piercing wizened marrow

rusty blood
like beaded sweat

peppering
its keen edged face

it took thirty-seven police to arrest
two women as dangerous
as cristina y yo

we know about cabronas like you, they said
treacherous as scorpions

¡confess!


they looted your house, diego
stole your suits

wiped their feet on your watercolors
on their way out the door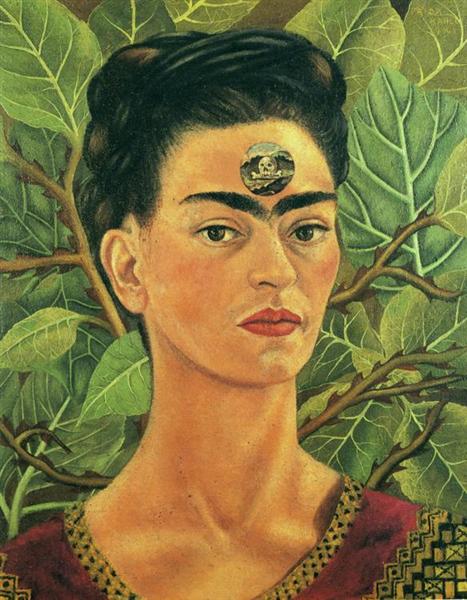 frieda-frigg-freya: una diosa mexica-alemana
(pensando en la muerte/thinking of death 1943)

across its wide winged threshold
beneath its braided battered roof

at labor inside my charnel house
i prepare

anticipating the battle dead
now littering the field of moribund lust

i am corpse maiden
preparing the loom

with linen thread steeped
in ancient reddest prickly pear dye

arrowed shuttles begin to sing
weaving the battle's outcome

outside the thorny leafy sky
augurs old blood

from my jaguar drawn chariot
eagle feather cloak flying
i survey the carnage

claim first
my just preordained half

of war's booty

disembodied wings
clawless talons
defanged jaws
beaks with bloody crenulated edges

evidence of the rigors of romance

day
never breaks

night
ever falls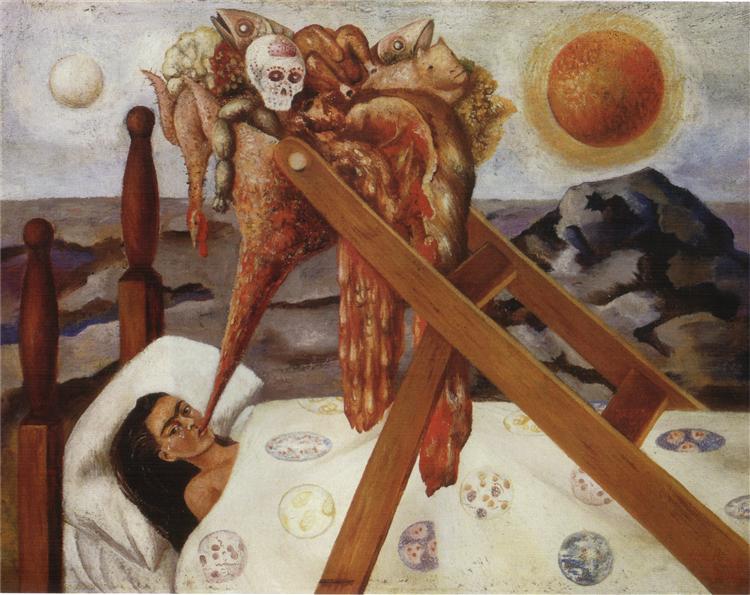 tlazoltéotl: she who eats filth
(sin esperanza/without hope 1945)

i:

flayed woman
filth-eater

she-vulture
tlazoltéotl

she approaches from the place of thorns
thunderstones rattling

at her ankles
at her knees

this is more gore
than even tlazoltéotl
can vanquish with her broom

more carrion
than her talons
can spirit away

ii:

compassionate mother confessor
flinty-breasted one

four-faced power
who eviscerates fate

"not the least hope remains to me"

iii: 

my brittle bones
this bedridden easel

my flayed skin
its taut stunning canvas


a record of
 
                        hemorrhage and
                        horror and
                        helplessness and
                        theft and
 
                        fallible priests of microscope and entrails