The Magnitude of Unstable Circuitry
by Lauren Camp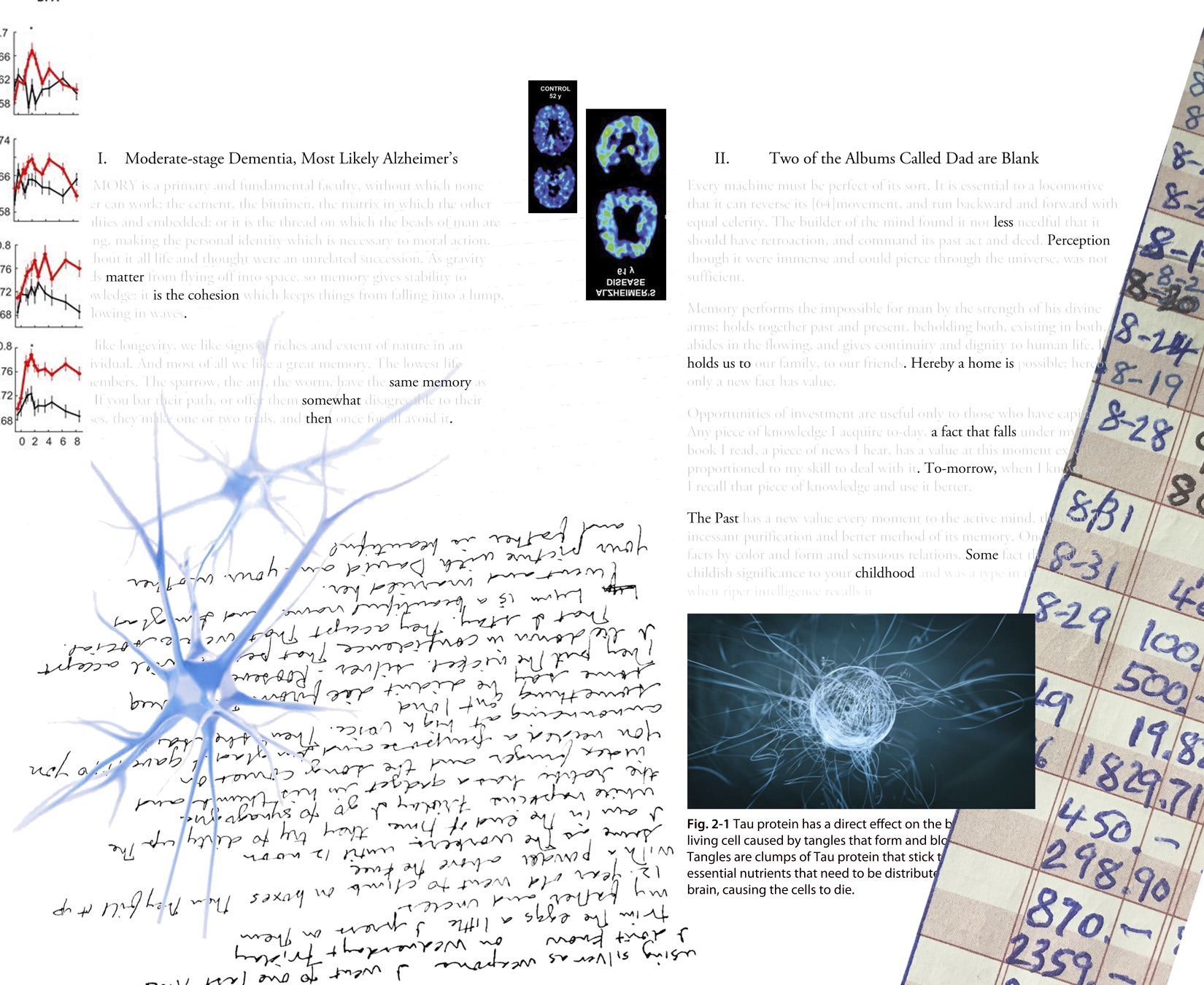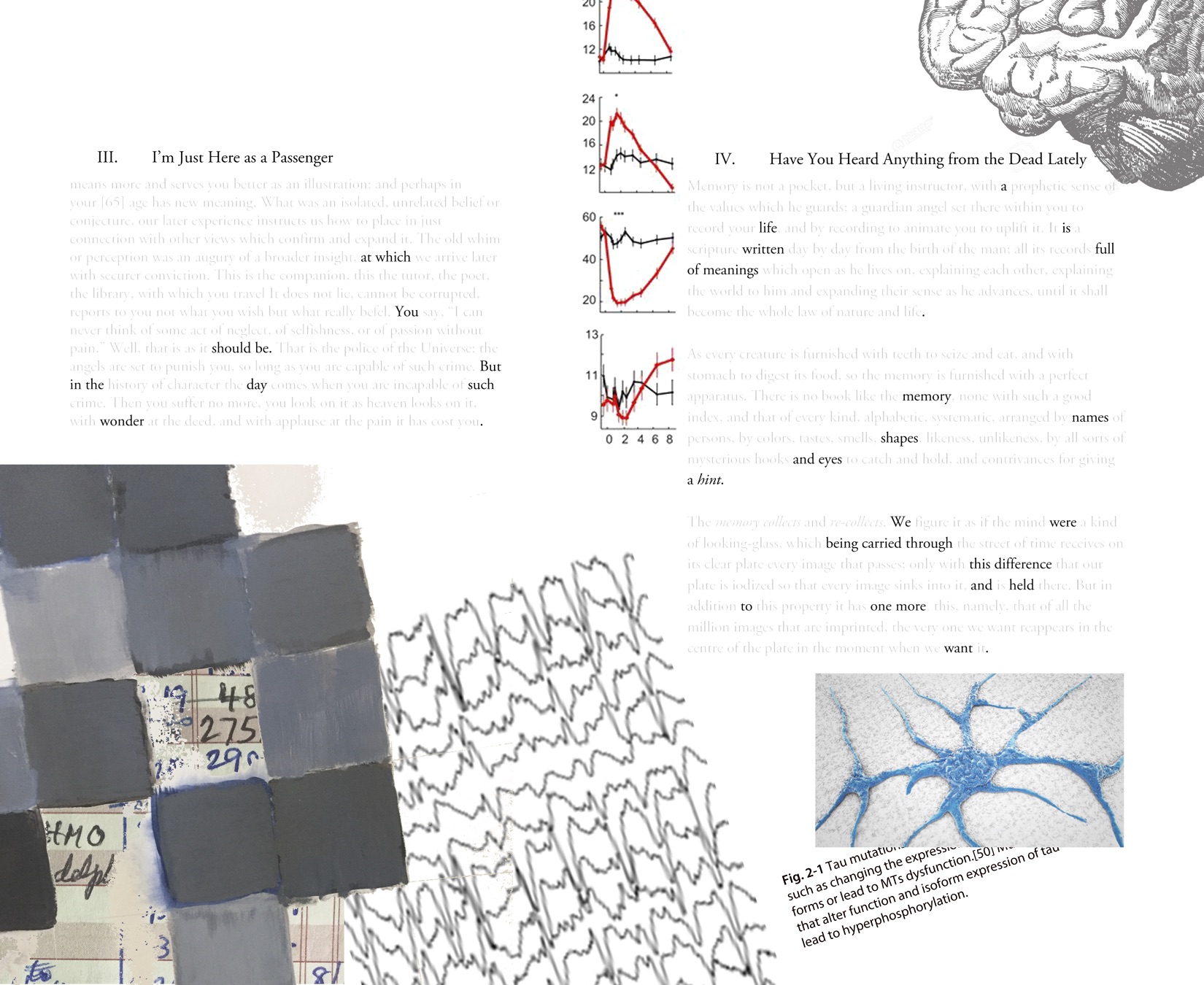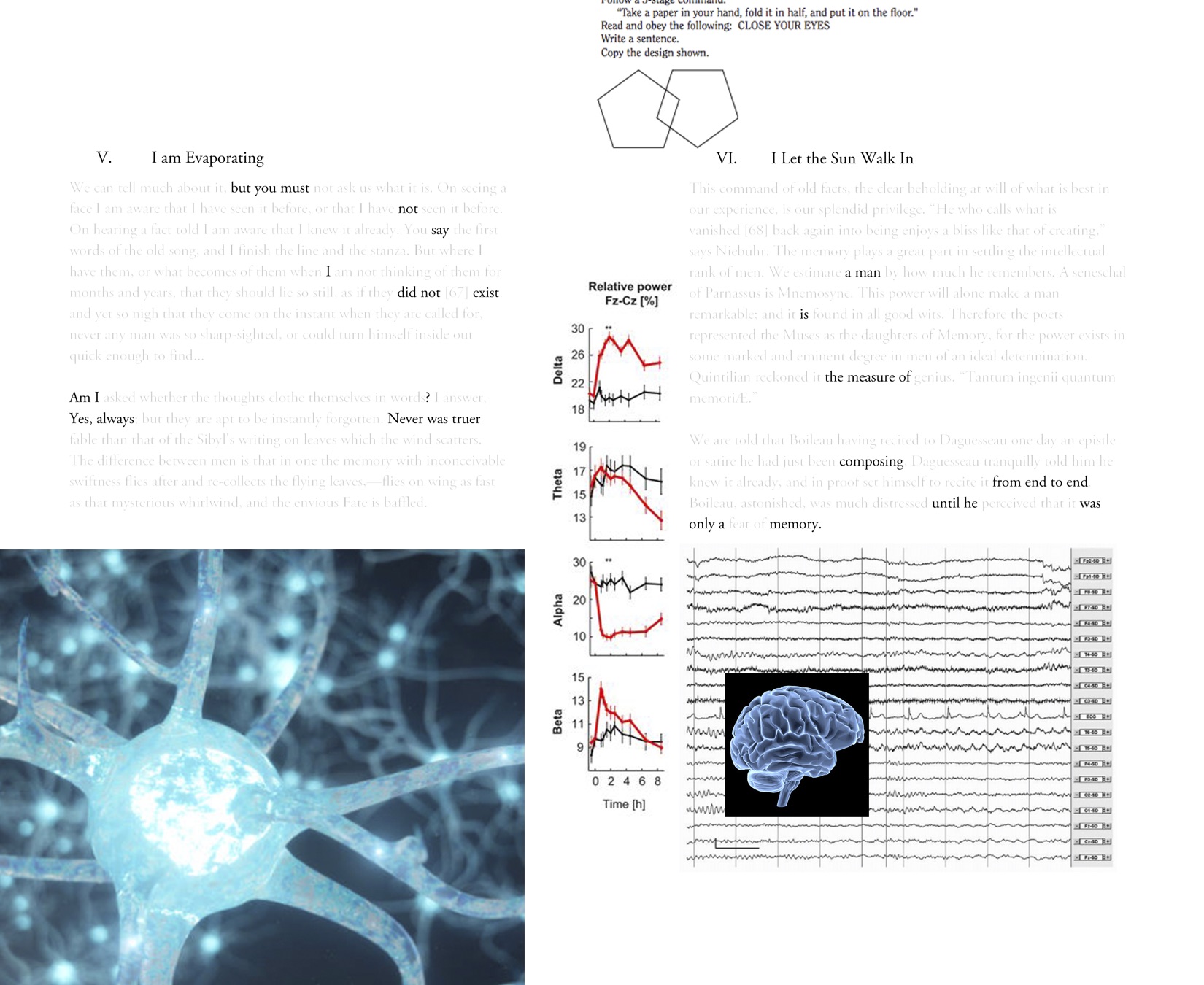 Lauren Camp
Three Questions for Lauren
What is the significance of this work to you?
I made "The Magnitude of Unstable Circuitry" in the week my father was dying. He had been in a memory care facility for three and a half years, during which he was on my mind daily—sometimes hourly. He had been physically vibrant, but mentally disappearing. And then suddenly, he developed an upper respiratory infection, and his mind didn't know enough to help his body fight it. The end was quick, 9 days.
During complicated times, I often need to craft what I'm experiencing rather than simply letting a situation happen to me. Actively creating gives me a productive, calming focus.
What is significance of the form you chose for this work?
I began by redacting text from Ralph Waldo Emerson's 1857 essay "Memory," and gradually pulled in other elements: EEGs of brain scans; images of tau protein tangles in atrophied brains (which scientists believe cause Alzheimer's disease); a portion of a state mental exam; and personal memorabilia (my father's check register showing his final financial maneuvers, his diagnosis, and my cursive gathering of his wandering thoughts). I wanted the design to have layers and absence, to overlap beauty and confusion.
Before I turned fully to poetry, I had a career as a visual artist, making work out of fabric. I knew "The Magnitude of Unstable Circuitry" needed to be visual and more expansive than I could create in a traditional poem. Collage seemed the right medium.
What was the process for creating this work?
When I had gathered all the imagery, I asked my husband (a sometimes graphic designer) to maneuver through Photoshop, placing elements where I thought I might like to see them. We worked on this at his desk for many hours and many days, with a fierce determination (mine) that kept me from falling apart too often. In between, I wrote my father's obituary, planned his funeral, and listened to endless voice mails he had left over the years, listened to his voice in his Iraqi accent tell me the most ordinary things.
Lauren Camp is the author of five books of poems, including One Hundred Hungers, which won the Dorset Prize, and Took House (Tupelo Press, 2020). Her poems have appeared in The Los Angeles Review, Poetry International, Pleiades, Poet Lore and other journals. Her honors include fellowships from Black Earth Institute and The Taft-Nicholson Center, and finalist citations for the Arab American Book Award, the Housatonic Book Award and the New Mexico-Arizona Book Award.